Are you a leader? Do you ever have tough times in life or business? This book is for you. Simple Intelligence creates hope by shifting your negative thoughts to positive ones. Develop your Simple Intelligence by practicing the strategies and systems in this book and you will establish a powerful subconscious mind. Simple Intelligence focuses on the truths and principles that bring long-term results. 43 Pages
Pierre looks forward to hearing how Simple Intelligence impacts your life. Please email us at
testimonies@pierrecamp.com
Thank you! Let's GO!!
Order your autographed copies today.
What leaders are saying about Simple Intelligence:
In reading this book, I believe that you will be well on your way to establishing habits in your thinking that will help you in your pursuit of personal excellence. If you develop your Simple Intelligence, you will begin to understand and maximize your potential in a new and exciting way.
Darrell "Coach D" Andrews, CSP
Certified Speaking Professional Author of How To Find Your
Passion And Make A Living At It
CoachdSpeaks.com
"Pierre Campbell is a dynamic young man who will help you to live your life with power and purpose. In this book, he gives you creative ideas that will empower you and push you to do more, be more, and achieve more! Read it and share it with friends and family who need a word of encouragement in their lives! And make a point to keep your eye on Pierre…he is a young man who is going places!!!!"
Willie Jolley
Best-Selling Author of A Setback Is A Setup For A Comeback & An Attitude of Excellence!
WillieJolley.com
"Some say that "common sense" is no longer common. Pierre Campbell's Simple Intelligence is a refreshing collection of simple strategies. Once applied to your daily life you will exponentially increase your status, mindset, relationships, and intelligence."
Rae Majors-Wildman, CEO, Founder
AllTheWaySuccess.com
"Pierre's discovery that LOVE and GRACE are ALWAYS present in the midst of tragedy and life's difficulties is priceless, empowering and inspirational. It is a powerful and timely message in a world that has lost hope. That discovery, coupled with his articulation of the TRUTH that everyone has a purpose and many gifts which lead them to their purpose in life, will plant the seed of HOPE that will bless individuals, families, communities, nations and the world."
Meade Malone
Best selling Author, Unbreakable Spirit—Rising Above theImpossible and The Plan—Unlocking God's Financial Blessing for your Life
MeadeMalone.com
"Reading the first pages of Simple Intelligence is an extraordinary experience. Author Pierre Campbell tells us his personal story and helps us to understand right from the get-go who he is, and what has influenced him to become the leadership dynamo that he is today. It's quite a read! Campbell's honest and riveting description of life-changing events, a horrifying moment at gunpoint, and the inspirational giants who have influenced him throughout his life set the stage beautifully for his motivating acronym system. Honestly, Campbell's acronyms provide such a fresh and creative approach to personal and professional development that I wish I had thought of them myself! Simple Intelligence will be useful for career professionals who wish to understand how pivotal life events and individuals of influence have shaped who they are. I also believe that readers will find Campbell's ingenious acronym system extremely valuable as they develop new habits, and effect positive changes in their personal and professional lives. I highly recommend this work."
Dr. Laura Hills
President, Blue Pencil Institute
bluepencilinstitute.com
"One of the most awesome things that I have ever discovered in life is that all profound things are simple. In this aptly titled book, Simple Intelligence, Pierre Campbell gives the recipe for what can only be described as the art of strategic living. Pierre not only masterfully weaves real life examples and experience with infallible life-governing principles, but also, using his down-to-earth way, makes the truths of this rare work come to life even more. Whether he is talking about ingredients for intelligent relationships, keys to healthy self-esteem or just the necessity of a strong foundation of faith, Campbell challenges his reader to live a life of purpose and dignity. One can't help but be moved as Pierre takes us on a journey of wisdom and discovery, using acronyms and time-tested virtues such as kindness, gratitude, positive self-talk and many such like. The concept of one human race and the power of celebrating are also revolutionary, to say the least.
To be able to put forward such an enormous wealth of practical tools for living well in such a precise and concise manner is nothing short of genius. This is a book that I personally recommend very highly for everyone out there who is ready to change their future, and live expansively."
Dr. Ramson Mumba
Founder & PresidentEl-Shaddai International
elshaddai.org.uk/houston_pastors.htm
"A couple of years ago, I had a medical emergency that reminded me of living each day to the fullest, because you never know what tomorrow will bring. Pierre Campbell's Simple Intelligence has that underlying message—to live and love as if tomorrow might not come. I appreciate Pierre for his Simple Intelligence. My favorite acronym has to be "WOMAN" because the most influential people in my life have been women."
Dr. Miguel Corona
MiguelCorona.com
"This is a wise and deep-hearted book, a must-read in today's world. It has something to be learned by people from all walks of life. Change your life by reading this book and practicing the exercises."
Dr. Michael Otaigbe
Campus Dean
Strayer University
"Pierre is off to a great start with a presentation of ideas that will serve you well. The use of acronyms makes complex life skills easily and readily accessible to those of us crushed by the tempo of the daily grind. I particularly liked the reminder to be a mentor at every opportunity. Simple Intelligence is a great platform that we will hear much more of."
Dr. Bob Nolley
Campus Dean
Strayer University
"Mr. Campbell is truly a dynamic leader. His strategic, creative, and tactical execution of various initiatives to enhance personal image, academic excellence, and self-productivity are legendary. He has a depth of knowledge in terms of one's own psychology that positively affects many individuals' life experiences and personal growth. He has valuable experience in encouraging young executives, students, athletes, and others, converting them to focused scholars with winning spirits. He possesses a unique insight that can enhance one's personal cognitive experience. He has executed successful self-improvement programs that improve personal efficiencies and self-esteem. Personal growth and exhibited best-in-class performance result from his training style and techniques. He is a decisive professional life coach who responds to challenges with confidence, determination, sincere concern and focus on the individuals whom he has served as mentor. Mr. Campbell has exhibited a generous commitment to community service by virtue of his personal example and strong family ties. I recommend Mr. Pierre Campbell's book with the highest regard."
Pedro Barry, Project Manager
"Pierre Campbell walks us through the importance of changing the way we look at everyday words. Through his book Simple Intelligence, he helps us discover the positive in the negative. It is only as we begin to look at our words differently that we will change the way we think, there by changing our outcomes. Pierre Campbell is a dynamic motivational speaker who gives us the opportunity to take home some of the acronyms that have influenced his speaking engagements. I would recommend this book as a way to discover the power of words."
Lynn Conteh, CEO
Perteh
"Internationally known motivational speaker Pierre Campbell puts his thoughts into writing in Simple Intelligence. Pierre is very open, and shares personal trials that have shaped his life and how he has learned to see positive even in the negative. I recommend this book to help individuals have a positive outlook through acronyms. Simple Intelligence is a resource to have in hand both in the office and at home. This book can be referred to on a regular basis to help change how we look at situations in life. His creativity in words is refreshing and resourceful."
Abdul Conteh
Sierra Leone, Africa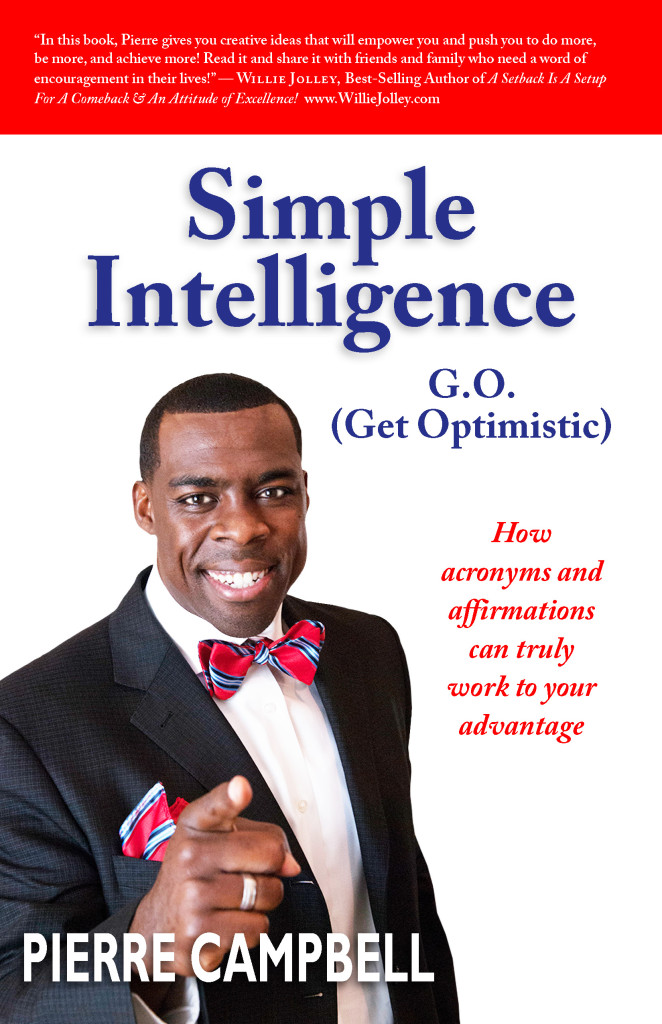 How Acronyms And Affirmations Can Truly Work To Your Advantage
Simple Intelligence G.O. Get Optimistic
That's the philosophy of changing your negative thoughts to positive ones and strengthening your subconscious mind. Learn how to:
Maintain A Positive Attitude
During Tough Times Maintaining a positive attitude can be a very challenging thing to do. The longer we live, the more problems we encounter. Building a strong, faith- filled foundation, and developing mental toughness are what Simple Intelligence™ is designed to do. Thinking positive thoughts has always kept love in my heart; Love is the ultimate form of gratitude. I've learned when you give love you may not receive it from the person you give it to, but love is a very powerful energy that will always come back to you.
Maximize Your Human Potential
Maximize your human potential by increasing your self-awareness, self-exploration and acceptance. Of course developing a positive attitude and becoming more optimistic takes more than just reading a couple of acronyms and affirmations before you go to bed at night. It takes disciplined habits to create the results you want. That's why I show you how to use your acronyms and affirmations so you can develop that gift we have all been blessed with (our minds). Simple Intelligence™ focuses on the truths and principles that bring long-term results in life and business.
In this book you'll see how:
• Tragic situations and circumstances can put your life into perspective and be a catalyst for taking action
• Positive self-talk can help you develop your optimistic thought process
• Common sense isn't common anymore but Simple Intelligence™ is
• 76 acronyms and affirmations can change the way you look at the words you use everyday
Bonus! Simple Intelligence™ Leadership Model With this simple model you can:
• Find out what steps bring you to excellence
• Identify what competencies you need to work on
• Use the model as a guide to setup a plan to become a more effective leader
Bonus! 17 Easy Ways To Use Your "Simple Intelligence" Acronyms
About The Author
One day, I looked around my apartment at my library of personal development, leadership and management books, and got FED UP! That day I asked myself, "What am I doing? I've purchased all these books to study and learn what the great thinkers of the past and present have to teach." It was then; I realized I had something to share as well. This "aha" moment provided the motivation to finally start writing. Sometimes, that's all it takes.
Everywhere I've worked and every team I've been apart of. I've always had this incredibly optimistic outlook. Sometimes I would even wish and pray for people to see situations from my lenses. Colleagues and teammates would always ask me how did I get this kind of optimistic type of attitude. Leaders have adopted my Simple Intelligence™ strategies and systems and it works for them. With discipline and belief in yourself they can work for you too.
Learn how to develop your Simple Intelligence™.