---
Leadership Development Training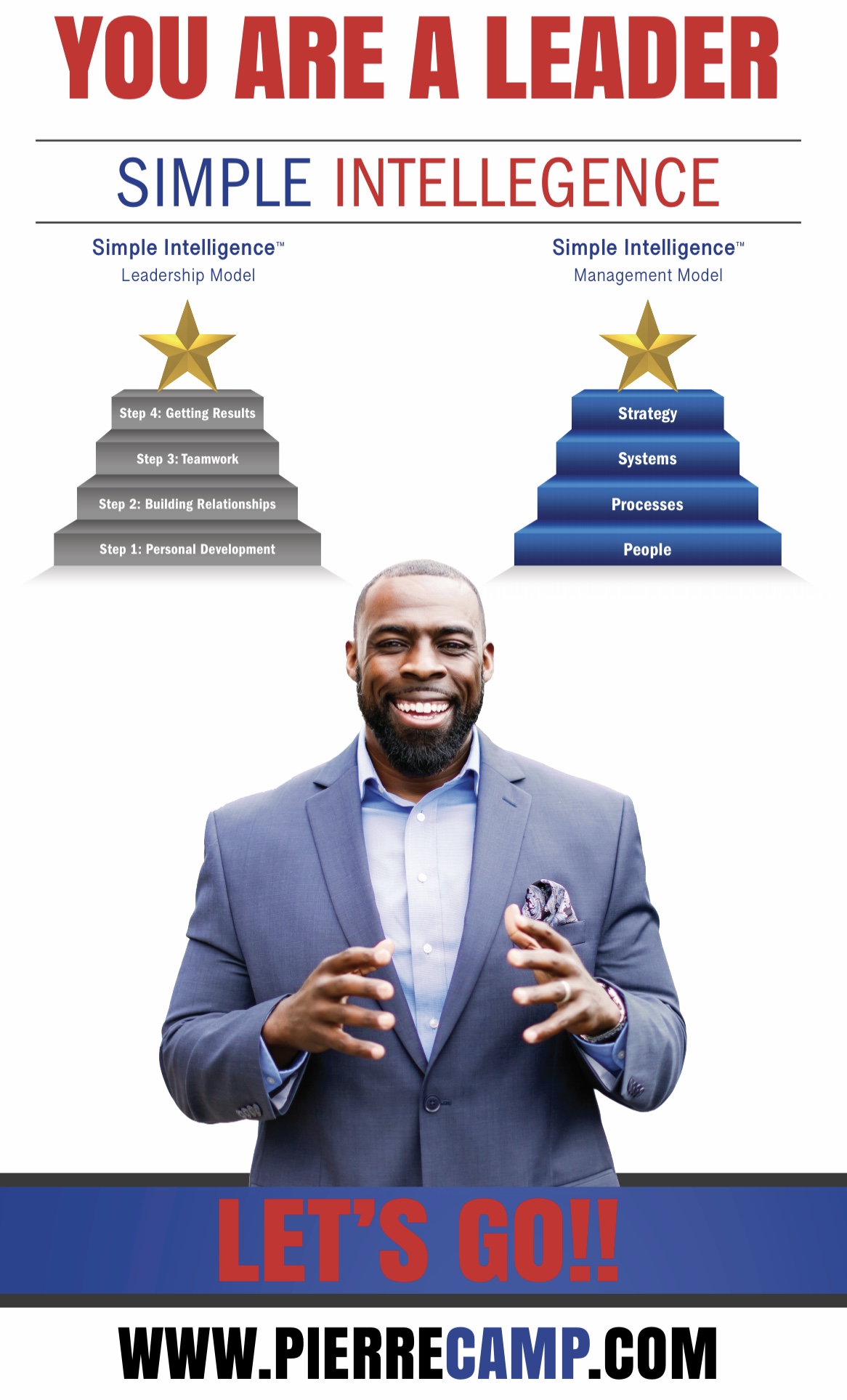 There is a process for getting the results you desire.
Pierre develops leaders and teams by using his Simple Intelligence Leadership Framework, which builds confidence and increases business acumen. Pierre deals with multiple developmental issues ranging from managing and leading people, changing mindsets, self-belief, and awareness. The PierreCamp experience is transformational. Watch this highlight video of the training. Let's G.O. (Get Optimistic)!!
SIMPLE INTELLIGENCE LEADERSHIP COACHING SERIES
Leadership Workshops
The Simple Intelligence Leadership Workshop is conducted with the Leadership Model as a Framework to guide the leaders through the steps to achieving their desired results.
Management Workshops
The Simple Intelligence Management Workshop is conducted with the Management Model as a Framework to guide the leaders through the steps to becoming highly effective Managers.
One-On-One Coaching Sessions
As an accountability partner, the goal during personal and group coaching sessions is to present the leaders, managers with self-exploration questions that help them develop and hone a true sense of self. When leaders have keen insight into themselves, they are better able to confront the world. Learning about oneself is the best method for understanding others. Pierre steers the leader to strength identification in an effort to maximize each person's talents, gifts and strengths to achieve their desired outcomes and create more value in what the leader can offer the organization or team. Pierre is an accountability partner and provides valuable insights and mentoring tips to not only help the leader develop, but help the leader to develop others.
Conference Keynote Speaker
Pierre's public speaking engagements are educational, motivational, inspirational and uplifting. Audiences are treated to a charismatic speaker who has an uncanny ability to relate the mundane details of everyday occurrences to the manner and spirit in which each of us manages our professional and personal life. His ability to connect on a personal level is unparalleled. Pierre challenges us to be authentic in all our dealings, to understand ourselves and to not be afraid of the power each of us holds over our own future. Pierre provides an interactive and empowering message that brings out the best in each of us.
Diversity and Inclusion Training (Equity)
Lead by the Simple Intelligence Principle – "Your Difference Brings Value To Your Job". This training encourages and empowers leaders to value the difference in others.
Consensus Building
Creates an environment where the team feels a sense of belonging and well-being. The result is collaboration and teamwork for the organization.
Executive Sponsor Training
This training will prepare the executive to clearly understand what the network needs from a support perspective and it also allows the executive to learn without judgment. Ask the hard questions. Many executive are from a different culture and they may not fully understand what the network needs from them.
Leadership Webinars
Webinars provide leaders with the flexibility to learn from wherever they are in the world. They can attend live or watch playbacks for their development.